​The IMPACT FARM is a preview of the future of food production.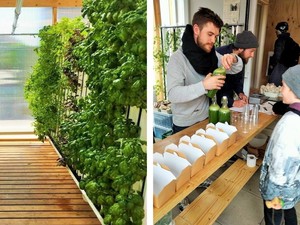 It is an urban pop-up farm with a complete hydroponic growing system that is both productive and eco-effective, resulting in 2-4 tonnes of leafy greens and fruiting vegetables year round using solar energy. In addition it uses 75% less water as from conventional agriculture. The farm is designed as a two story timber greenhouse build around a refurbished 20 ́ shipping container.
The ground floor is a working and recreational area that serves multiple purposes. Besides seedling racks, storage space, technical installations, water tanks, and a working table, the space serves as a farm hub that is well suited for food, and cooking events and workshops with educational purposes.
The space on the upper floor enables a stable production area of greens in a vertical growing system. The hydroponic system consist of 170 (5 ́) ZipGrow towers divided into four rows allowing for easy access for daily maintenance.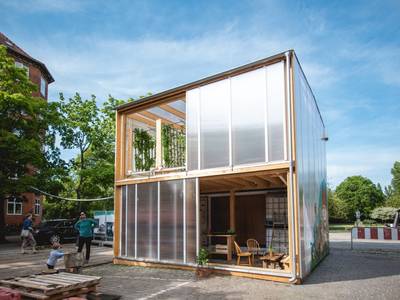 All components to build the farm are prefabricated and designed so they fit into the shipping container that the farm arrives in. The structure is made from robust, sustainably sourced and reused materials. The shipping container is retained and used as an integral part of the design and ready to reuse when the IMPACT FARM is disassembled for relocation.
The IMPACT FARM serves as a triple bottom line, effective food production, innovative social hub and full adherence to circular economy principles. – GENUIS
Reference: http://www.humanhabitat.dk/portfolio/the-impact-farm/
19 July 2018